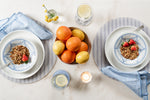 A recent Harvard study revealed what many of us have long suspected, that strong social connections are one of the most important keys to longevity and personal fulfillment. Knowing that friendship is literally one of the best medicines, I am doubling down on hosting my friends and family this year. And while lavish parties have their place on all our calendars, so many of our family's most treasured memories come from casual, impromptu meals with people we adore.
When possible, I like to set the table early, and depending on how much time I have, I may add to it throughout the day. Not surprisingly, I start with placemats! Before I designed my Proper Table line, the menu would dictate which placemats I used. I cringed to imagine crisp white linen splashed with bolognese or a muted floral falling victim to our chocolate birthday cake. Thankfully, now I choose any color palette for any menu, knowing my guests and I can drip and dribble with no fear of staining our lovely placemats!
Simple and stylish is my vibe, so I often choose a chambray or classic ticking stripe. French tea towels are another favorite and look chic dressed up for the holidays or casual for a quiet dinner on the porch. For napkins, I gravitate to linen. I love them relaxed and softly wrinkled, or crisply pressed, depending on the occasion. 
Once the critical elements in place, I add finishing touches, again focusing on fresh and clean. A calming walk around our garden to pick whatever looks especially perky—sometimes colorful, sometimes green, is a treasured part of the party prep. For the plate, I pluck tiny flowers, herbs, or evergreen sprigs and tie them with twine or striped butcher's string. Placed atop a napkin, they look easy and elegant. Single sprigs prettily tucked into a simple napkin ring is another option.
I tend to grab branches, greens or seasonal flowers to fill vases for the table as well. Several small arrangements or perky stems in bud vases make it easier for guests to converse across the table, without ducking under sprawling flowers. Foraged foliage is my best trick for setting festive and unique tables!
Adding candles, either votives or pillars in hurricanes is my final step. Candlelight is magic, it sets the mood, reduces stress, and makes us all look gorgeous too. Your guests will feel the love!
Since I am not musically creative enough to spin my own playlists, we rely heavily on Spotify. Our current fave is the Feel Good Indie mix. It works equally well for cocktails or dinner.
Cheers to an easy, amazing party, and a longer, happier life!